Church Tackle | Legend | Musky Innovations | Naze Baits | Supernatural Big Baits | All_Crankbaits
Legend - Perch Bait
Night Shiner
Price: $44.99
Description: The Perch Bait from Legend has becaome a "go-to" bait for many serious Muskie fishermen. The Perch Bait has the same, fish-catchting characteristics as it's big brother, the "Plow". The tough, lexan lip is anchored into the bait. The Legend Perch Bait is built with through wire construction encased in a super-tough, solid plastic body. Cast the Perch Bait down to 10 to 12 feet. Can be trolled at speeds over 6 mph and achieves depths of 20 or more feet. 10" with lip and 4 oz.
Order
---
Legend - Jointed Perch Bait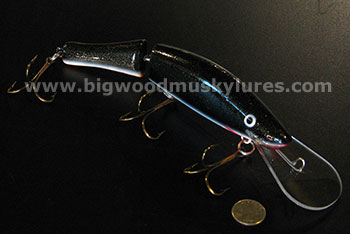 Night Shiner
Price: $49.99
Description: The Jointed Perch Bait from Legend is built with the same tough materials and excating standards as all the Legend Lures. The Jointed Perch Bait trolls down to 24' and casts to 10'-12'. This classic Muskie Crankbait will troll accurately at speeds over 6 mph. 10" with lip and 4 oz..
Order
---
Legend - Plow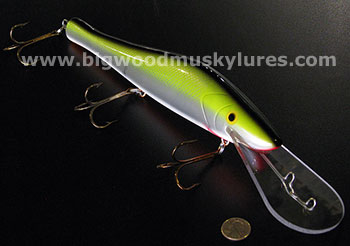 Highback Shiner - Orange Belly
Price: $79.99
Description: For years, the Legend Plow has been "THE" big bait for big Muskies. Many big Muskies have just hammered the Legend Plow when other baits were simply ignored. The plow has two depth settings that allow you to troll this crankbait up to 20 feet and more on the shallow setting and over 30 feet on the deep setting. The Legend Plow truly is a legendary Muskie lure. Try one and find out why! 14" with lip, 9 3/4 oz..
Order
---