Beaver's Baits | Bondy Bait Co. | Chaos Tackle | Mend-It | Musky Innovations | Phantom Lures | Red October Baits | RubberHairy Tackle | WaterWolf Lures | All_Swimbaits
WaterWolf Lures - 5" Tubezilla 6 Pack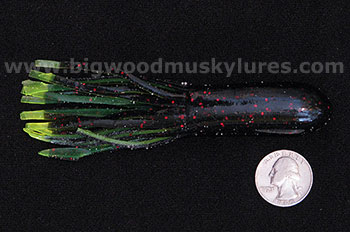 Black Chartreuse Gill
Price: $7.49
Description: 5" Tubezilla 6 packs from WaterWolf Lures have excellent subtle action that shine on pressured waters. Available in the U.S. exclusively at big Wood Musky Lures, these soft plastic tubes make for a great spring time presentation. Sold in 6 packs with no hooks or rigging included. Use your own hook or rigging system for the desired results. An Owner 7/0 EWH hook makes a weedless fishing lure that glides like a dying baitfish. Muskies, Northern Pike, big Walleyes and Bass will strike this versatile bait. 5" unrigged.
Order
---
Waterwolf Lures - Tubezilla Jighead 3 Packs
Price: $5.49
Description: Waterwolf Lures Tubezilla Jigheads are perfect for the 5" Tubezilla's and other soft plastic lures. These jig heads utilize a wide, 7/0 hook and are available in 5/8,3/4 and 7/8 oz sizes. Sold in 3 packs.
Order
---