Beaver's Baits | Bondy Bait Co. | Chaos Tackle | Musky Innovations | Phantom Lures | Red October Baits | WaterWolf Lures | All_Swimbaits
Waterwolf Lures - Shadzilla V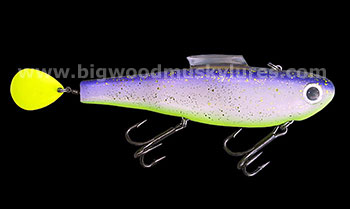 Sexy Shad
Price: $19.99
Description: New from Waterwolf Lures is the awesome Shadzilla V! The 9.5" Shadzilla V has a jointed internal harness and a soft plastic hollow body. This combination of the jointed harness and hollow body really allows the tail end of the bait to move for a natural and enticing action. The Shadzilla V can be jigged, retreived straight or with a pause and pull. Looks great in the figure 8 too! No matter how you fish it, the Shadzilla V's tail section will vibrate like the tight wiggle of a fleeing bait fish. At 6.8 oz, the Shadzilla V's sink rate is very fast saving precious time while getting into the strike zone quickly. The #7 colorado blade puts out a ton of fish calling vibration and flash. Waterwolf Lures painted blades are coated with a tough enamel that resists chipping and are not effected by contact with soft plastics. About 7 oz and 9.5" with blade.
Order
---
Waterwolf Lures - 11" Shadzilla X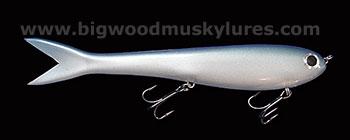 Cisco
Price: $17.99
Description: It's here! The brand new 11" Shadzilla X from Waterwolf Lures is a revolutionary Jerkbait/Swimbait that is bound to shake up the Muskie world! The unique manufacturing process incorporated by Waterwolf, creates a hollow lure which is not only buoyant, but also super flexible. At rest, the Shadzilla X sinks slowly and horizontally as it rocks side to side resulting in amazing flash. Each jerk of the rod tip will send this lure shooting out in different directions, rolling on its side and snapping it's ultra soft tail. There are many hard bodied and hybrid jerk baits on the market today, but none of them has the erratic action of the Shadzilla X! 11", about 6.4 oz..
Order
---
WaterWolf Lures - 5" Tubezilla 6 Pack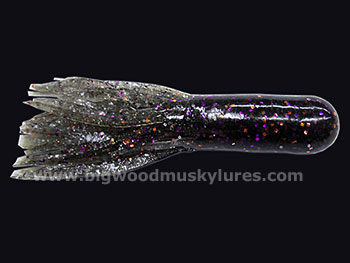 Spanky
Price: $7.49
Description: 5" Tubezilla 6 packs from WaterWolf Lures have excellent subtle action that shine on pressured waters. Available in the U.S. exclusively at big Wood Musky Lures, these soft plastic tubes make for a great spring time presentation. Sold in 6 packs with no hooks or rigging included. Use your own hook or rigging system for the desired results. An Owner 7/0 EWH hook makes a weedless fishing lure that glides like a dying baitfish. Muskies, Northern Pike, big Walleyes and Bass will strike this versatile bait. 5" unrigged.
Order
---