Church Tackle | Legend | Musky Innovations | Naze Baits | Supernatural Big Baits | All_Crankbaits
Musky Innovations - Shallow Invader Replacement Tails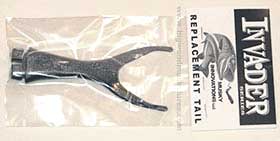 Black/Silver
Price: $6.49
Description: Replacement Tails for Musky Innovation's Shallow Invader crankbait.
Order
---
Musky Innovations - Magnum Shallow Invader
White
Price: $25.99
Description: After several years of testing and a great deal of anticipation, the Magnum Shallow Invader from Musky Innovations is finally here! Like it's baby brother, the original Shallow Invader, the Magnum Shallow Invader has an enticing swimming action enhanced by the soft plastic tail. Magnum sized for big fish, this crankbait is sure to become a classic. Contains internal rattles to help call in the big girls. Great for both casting and trolling. Trolls up to 6mph without blowing out! 13", 5 oz..
Order
---