Esox Assault | Hirsch's Ghosttails | Llungen Lures | Muskie Customs | Musky Mayhem | Musky Safari | All_Bucktails
Musky Mayhem - Super Model Double Cowgirl
Price: $24.99
Description: Bigger than the rest, the Super Model Double Cowgirl, by Musky Mayhem, is a real trophy getter! This bucktail will wake up the dead. Great musky lure to throw over your favorite weed bed or rock bar. Two custom #13 Colorado blades, 13 inches long and 3 Flashabou skirts make this muskie bait one of a kind. The custom #13 blades were designed to pull no harder than the Double Cowgirl. 2 Mustad 7/0 Treble hooks. The all new Musky Mayhem Super Model Double Cowgirl colors for 2010 are posted with a black background. 13", 4.3 oz.
Order
---
Musky Mayhem - Baby Girl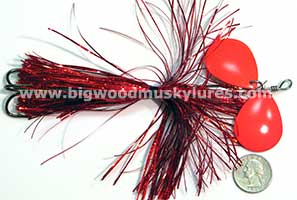 Red - Red
Price: $8.99
Description: The Baby Girl bucktail is the latest addition to the often copied but never duplicated, Musky Mayhem bucktail line up. The flashabou skirts really puff out and breath in the water making this bait look much bigger than it really is. The Baby Girl has double Colorado blades like the now infamous, Double Cowgirl, but the Baby Girl's Colorado blades are a much smaller #6 size. This Muskie lure is a great choice for triggering strikes with speed. Burn this bait in shallow water over your favorite weed bed or rock pile for violent strikes from Muskies and Northern Pike. A quality built lure with a 4/0 Eagle Claw treble hook, this bucktail is 7", 1 3/4 oz.
Order
---