Esox Assault | Hirsch's Ghosttails | Llungen Lures | Muskie Customs | Musky Mayhem | Musky Safari | All_Bucktails
Llungen Lures - Reefers

Red Orange Yellow/Flame
Price: $16.99
Description: While most willow blades give off a lot of flash and hardly any vibration, the Reefer by Llungen Lures, has a magnum #8 willow blade that puts off enough flash and vibration to shake the entire bait upon retrieve. Reefer's come with 64 strand silicone skirts that glitter and shine for maximum visibility even in murky water and/or lowlight conditions. Throw them a change up and try a Reefer. Muskies and Pike can't resist! 9.5", 2.5 oz.
Order
---
Llungen Lures - DC-11's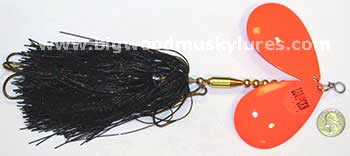 Black/Orange
Price: $19.99
Description: The super sized version of the Llungen bucktail. With all the talk of bigger is better, the DC11 is all that and much more. Built with 3 silicone glitter impregnated skirts and 2 super sized number 11 Colorado blades, this bait moves a ton of water. An awesome tool for fishing in low-light, murky water, big waves, or even at night. Extras include a Eagle Claw side hook and a front weight lure body. Like other Llungen bucktails, this bait is well made with quality componets and best of all it catches Muskies! 12", 4.8 oz.
Order
---