Esox Assault | Hirsch's Ghosttails | Llungen Lures | Muskie Customs | Musky Mayhem | Musky Safari | All_Bucktails
Hirsch's Ghosttails - Ghosttail VIII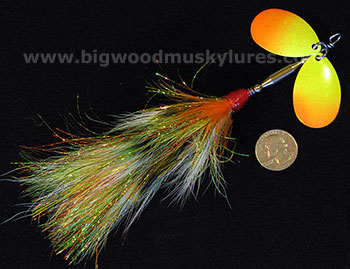 Firetiger/Flame-Flame
Price: $16.99
Description: Hirsch's Ghosttail VIII (Ghosttail 800 series) are beautiful and affordable Musky Bucktails from Hayward Wisconsin. A unique mix of hair and flashabou are hand tied and paired with custom, #6 Indiana blades for a truly original and effective bucktail! The Ghosttail 800 series is a smaller version of the popular Ghosttail 700 series and can easily be burned at high speed or can be slowed down to work the edges or normal depths. Like every Ghosttail made from this family run business of over 30 years, the blades spin the first time - every time! About 7 1/2" and 2 oz..
Order
---
Hirsch's Ghosttails - Ghosttail VII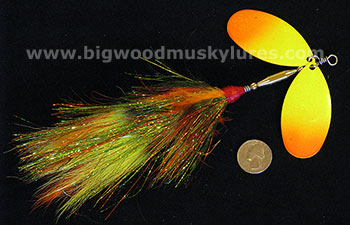 Firetiger/Flame-Flame
Price: $21.99
Description: The Hirsch's Ghosttail VII, also known as Ghosttails 700 Twin Nines Flashabou Series, are hand made works of art that also happen to catch big fish. Tied with a unique blend of hair and flashabou, these musky baits are simply gorgeous! As striking as these musky bucktails are to look at, Hirsch's Ghosttails are and have been a super, productive muskie catching bucktail made from a family run business of over 30 years. The large, flat, custom double #9 Indiana blades retrieve very easily for their size and provide a great deal of lift to easily work it over weeds and other obstructions. The double #9 Indiana blades on the Hirsch's Ghosttail VII move enough water to blow weeds out of the way of the two 3/0 short shank/round bend trebles. Like every Ghosttail, the blades spin the first time - everytime! 9" and 2.3 oz.
Order
---