Beaver's Baits | Church Tackle | Esox Assault | Musky Innovations | Phantom Lures | All_Accessories
Church Tackle - Lock-Jaw Release Clip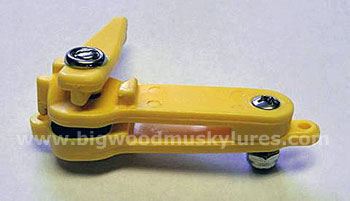 Lock-Jaw Release Clip
Price: $17.99
Description: The Lock-Jaw release clip from Church Tackle is super easy to use and fits the Church Tackle TX-44 Super Planer Board. This clip ensures a tighter line hold when running big Muskie baits with the TX-44.The Lock-Jaw clip clamps down with a simple twist of the lever and only fine adjustments are needed for more or less clamping pressure. Made in the USA of top quality material and workmanship the Church Tackle Lock Jaw release clip holds great on mono, super braids, power pro, lead, wire or copper lines without damaging the line. This lightweight clip weighs a mere 13 grams and measures 2 1/2" long with a 3/4" wide gripping surface.
Order
---
Church Tackle - Stainless Pin Assembly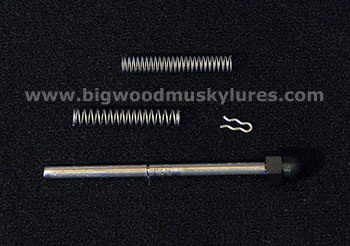 Stainless Pin Assembly
Price: $7.99
Description: This Stainless Pin Assembly from Church Tackle fit's the TX-44 Super Planer Board. Takes more abuse than the original plasic pin and stands up to hard use in cold weather. Comes with 2 springs so you can choose your preferred tension.
Order
---