Cochran Tackle | Esox Edge Custom Fishing Lures | Hirsch's Ghosttails | Musky Mayhem | Musky Safari | Ruff Tackle | All_Spinnerbaits
Esox Edge Custom Fishing Lures - Thumper Jr.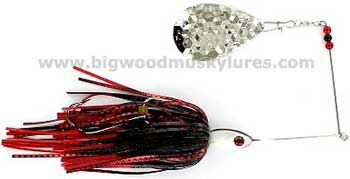 Silver/Red
Price: $14.99
Description: Made in the U.S.A., like all Esox Edge Custom Fishing Lures, the Thumper Jr. is a solid spinnerbait made to take the abuse that Big Game fish will give it. This Muskie Spinnerbait has an interchangable blade that can be used with other Esox Edge Spinnerbaits. Custom blades along with heavy duty custom silicone skirts make the Thumper Jr. just a little bit different than the rest. Great choice for both shallow structure as well as slow rolling the deeper edges and breaks. Muskies and Northern pike can't resist. 9", 2.1 oz.
Order
---