Stealth Tackle - Weighted Wire Leader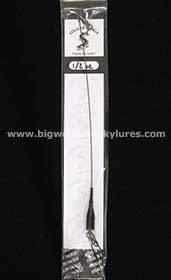 1/2 oz. Weighted Leader
Price: $7.99
Description: These weighted wire leaders from Stealth Tackle allow you to put your bait where the fish are. Available in 1/2, 3/4 and 1 oz sizes, these weighted Stealth Tackle leaders are 12" long and built with a number 5 Stay-Lok snap and 240# test wire. One quality leader per package.
Order
---
Stealth Tackle - Trolling Keel Weight
3 oz. Keel Weight
Price: $5.99
Description: Stealth Tackle Keel Weights are fantastic tools designed to get your bucktails down deeper when trolling. These Stealth Tackle Keel Weights eliminate line twist and allow you to speed trool bucktails without your lures breaking the surface. Available in 1 oz. and 2 oz. sizes, the simple design allows you to put more or less weight on the rig to suite your specific application. Sold in packages of one.
Order
---