Bitten Tackle | Musky Mayhem | Phantom Lures | Sinister Tackle | Suick | Waterwolf Lures | All_Jerkbaits
Sinister Tackle - Natural 6"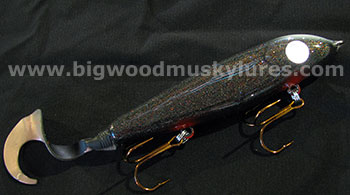 Black Sparkle
Price: $25.99
Description: The Natural, 6" jerkbait from Sinister Tackle is here! Lure Maker, Todd Cleveland, originator of Phantom Lures, brings 20 plus year of lure building experience to this bait. Built with single stainless steel, through-wire construction, the Natural glide bait is encased with a solid, high impact plastic body. Built super tough, these jerkbaits can easily be used in saltwater applications in addition to any freshwater species you are fishing for! The Natural has a unique, light gathering, see through eye. ( we used lighting in these photos to show what these eyes are capable of) The see through eyes will cast whatever light is available from one side of the bait to the other, giving Muskies, Northern pike and Bass somthing to hone in on. 6", about 3 oz..
Order
---