Bitten Tackle | Musky Mayhem | Phantom Lures | Sinister Tackle | Suick | Waterwolf Lures | All_Jerkbaits
Musky Mayhem - Big Daddy Unweighted
Cisco
Price: $23.99
Description: The Big Daddy Jerkbait, by Musky Mayhem is a 10" wood jerk bait that will get down right to where the big fish live. One of the very best lures available for jerk trolling, the Big Daddy has an unbreakable Lexan lip, plus a very unique, adjustable tail that gives it an fish enticing wiggle. This Big wood musky lure runs down to the 10 foot range with ease, and has a slow rise, which means it stays right in the strike zone. Tie one of these jerkbaits on today for huge Northern Pike and Muskie! Unweighted - 10" 3.4 oz.
Order
---
Musky Mayhem - Lil' Daddy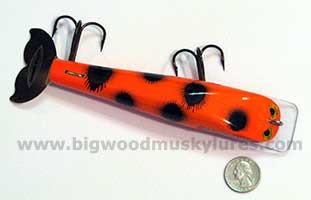 Orange/Black Dots
Price: $19.99
Description: Lil' Daddy 7" wood jerk bait, has the same unbreakable Lexan lip and great wiggle but is less buoyant so it goes deeper and stays in front of a fish's face even longer! Just like the Big Daddy, Musky Mayhem's Lil' Daddy has an adjustable back tail you can experiment with and alter the action of the bait. Try working this jerkbait slow to trigger strikes from inactive or pressured Muskies. An awesome choice for those who troll with jerkbaits! 7", 2 oz.
Order
---