Church Tackle | Cisco Kid | Custom X Lures | Fish-All (Talonz Lures) | Grandma Lures | Hosebait | Legend | Musky Innovations | Naze Baits | Newman Lures | Pearson Plugs | Supernatural Big Baits | All_Crankbaits
Hosebait - Flat Shad
Tennessee Shad
Price: $100.00
Description: The Hosebait Flat Shad with it's giant metal lip has a steep dive curve that gets this bait down to probe the depths. Tested for years on the water prior to being released to the general public, these Canadian crankbaits have a proven track record of durability and top-notch contruction. Hand made, hand painted with through-wire-construction, Hosebaits are built rock solid in addition to being beautiful to look at. 9 1/2 inches (11 1/2" including lip) 5 1/2 oz.
Order
---
Hosebait - Hose Shad
Glitter Perch
Price: $125.00
Description: The Hose Shad, from Hosebait, just like the whole line up Hosebait crankbaits, are some of THE toughest baits you can buy anywhere! Another exclusive Musky lure that you will only find at Big Wood Musky Lures. AVAILABLE IN LIMITED QUANTITIES ONLY. Unbreakable aluminum lips and real, thru-wire-construction, where a small hole is drilled through the length of the bait. (Not a bait cut in two with a wire placed inside and glued back together) The Hose Shad is a Parrywinkle style trolling bait that is made from select Cedar that starts off as wide as it is tall. This extra width in the mid section gives this Muskie crankbait an action that big Muskies can't refuse. The Hose Shad runs deeper than the Hose Daddy and shallower than the Hosebait Flat Shat. With 50 feet of 80 lb. braid out, the Hose Shad dives to about 20 feet deep and runs beautifully at speeds up to and over 5 mph..Although some of these high-end Muskie lures are bound for collector's show cases, the baits were hand made with great care to be fished with and to catch Muskie after big Muskie! Hosebaits are made to outlast the fishermen who buy them and can be passed on to the next generation like a family heirloom! The Hose Shad measures 10" from nose to tail and 12" including the aluminum lip.
Order
---
Hosebait - Fatty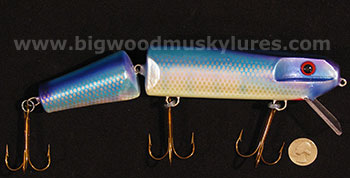 Cisco
Price: $94.99
Description: Introducing the Hosebait Fatty. Another custom crankbait you won't find anywhere but Big Wood Musky Lures. AVAILABLE IN LIMITED QUANTITIES ONLY.This style of Muskie lure is often favored by the Musky fishermen of Lake St. Clair, although this musky lure will catch muskies anywhere! The Hosebait Fatty, set's itself apart from the rest with true, through wire construction securing all three treble hooks. The other significant difference with the Fatty is the spacing of the two sections of select cedar allows the bait to knock together while swimming, producing an audible and relentless knocking that seems to anger muskies and make them attack violently! The Fatty has a squared lexan lip and has a pretty tight pattern for a jointed bait of this size. With a thick, wide profile the Fatty swims nicely in the 8 to 12 foot range depending on boat speed and line out. Hand made in Canada. Tough as Nails. Get Hosed! 10", 7 oz.
Order
---