Church Tackle | Cisco Kid | Fish-All (Talonz Lures) | Legend | Llungen Lures | Musky Innovations | Naze Baits | Supernatural Big Baits | All_Crankbaits
Fish-All (Talonz Lures) - Magnum Rippin' Shad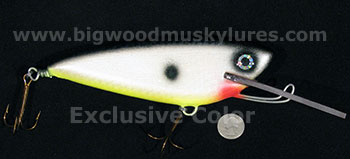 Big Wood Custom Chart Belly Shad
Price: $34.99
Description: The 7 1/2" Magnum Rippin' Shad from Fish-All Lures (Formerly Talonz Lures) are made with select, Western Red Cedar for a natural swimming action that fools even the biggest muskies. Built tough, with .078 stainless wire, triple split rings, mustad 6/0 3551 hooks and a 3/16 lexan lip. The one piece, through wire construction will ensure your fish of a lifetime sees the inside of your net! Although not a small bait, the Magnum Rippin' Shad provides the vertical profile of a much bigger Muskie lure. Trolls from about 10 feet to a maximum of 25'. 7 1/2" from nose to tail.
Order
---
Fish-All (Talonz Lures) - 12" Deep Threat
Candy Coach Dog
Price: $64.95
Description: The 12" Deep Threat is a deep diving work horse from Fishall Lures (Formerly Talonz). The Deep Threat is made in the tradition of old school craftsmanship with true, one piece, through wire construction. The finest, knotless, Western Red Cedar is shaped to perfection with a design that was over 5 years in the making. Heavy duty, .078 stainless steel wire, Wolverine split rings and Mustad 3551 hooks are all used along with a super thick, 1/4" lexan lip and a reinforced head! Made to take the punishment hardcore Musky Hunter's dish out. A tough and productive bait at a very reasonable price. This large profile, deep diving, Shad style Muskie bait dives from about 18' to 25' under normal usage. Also works great on a short line. 12" long, Approx. 6 oz.
Order
---