Esox Assault | Hirsch's Ghosttails | Llungen Lures | Muskie Customs | Musky Mayhem | Musky Safari | All_Bucktails
Muskie Customs - Double Indy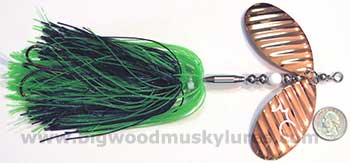 Lime/Purple - Copper
Price: $14.99
Description: The Double Indy Bucktail, by Muskie Customs, incorporates some of the best and most unique components available today. The custom, deep ribbed #9 Indiana, specialty blades on this muskie bucktail spin at a slightly faster rate than standard blades, allowing you to slow down your presentation if the situation requires while still maintaing blade movement. These custom blades also reflect light differently and send off a unique vibration. Silicone skirts, laced with light reflecting glitter from round strands produce the most lifelike action and donít stick together like conventional rubber skirts. The .053Ē thick wire is only formed with a wire forming die that produces smooth loops that have no sharp bends like the one you can get from using pliers. This eliminates weak spots and can be critical when fighting trophy muskies and pike. The 7/0 treble hook is shrink wrapped for better hooking percentage. Throw'em something different from Muskie Customs. 9", 2 1/2 oz.
Order
---
Muskie Customs - Little Miss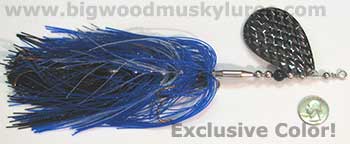 Blk/Blue - Smoke Diamond
Price: $15.99
Description: Another quality bucktail from Muskie Customs, the Little Miss features 63 strand silicone and glitter skirts, shrink wrapped back hooks and #10 Custom, Colorado blades. Deep ribbed and diamond blades give these lures truly unique qualities and distinct vibrations in the water. The specialty "smoke" blades appear nearly black in color, yet reflect light similar to traditional nickel, copper and gold blades. In many of today's pressurred lakes and rivers big Muskies and Pike have seen their share of lures and presentations. The unique color combinations and components of the Little Miss, set these bucktails apart from the rest. Made in the U.S.A. and built with the finest parts available. 7/0 and 6/0 treble hooks. 10 1/2", 3oz.
Order
---
Muskie Customs - High Roller
Black/Chartreuse
Price: $17.99
Description: High Roller Bucktails are made in the U.S. with top-notch components and specialty blades that Muskie Customs is known for. Made with four, 63 strand glitter impregnated silicone skirts, custom, deep ribbed, diamond and smoke colored blades and a lucky dice on the .053" wire, High Roller's are not your average Muskie Bucktails! Awesome color combinations, heat shrunk back hooks for better hooking percentage and attention to detail come standard with these bucktails. 7/0 treble in back, 6/0 treble in front. #10 Custom Colorado Blades. 10 1/2", 3 1/2 oz.
Order
---